This is my favorite 2×2 cast on for pretty much any gauge and type of yarn. The beauty of this cast on is that the comb is hanging on a temporary row of stitches that will be removed after the piece is off the machine. This keeps the comb from pulling on your first real row of stitches.
This example ends with both selvages on the same bed which creates some special circumstances for the cast on.
Set the beds for half-pitch (needles alternating) and rack the front bed to the left to achieve the zig-zag needle configuration (1).
The right-most pair of needles on the front bed (2) will be shifted into zig-zag position.
But the right-most pair of needles on the back bed (3) will be orphaned.

To fix this issue for the duration of the cast on, transfer the edge needle from the back bed to an empty needle on the front bed. You'll only need to do this when the edge needles are on the same bed.

Now we have a perfect setup for the zig-zag row (1). Note that if your selvages are on the front bed, you'll rack to the right instead of the left.
To cast on:
Position carriages on the left.
Set the carriage to the lowest tension (smallest possible stitch size). On the Superba, set the bed spacing to 3.
Knit the zig-zag row from left to right.
Hang the cast on comb and weights, making sure there's a tooth in each V.
Move your feet out of the way (just in case), decouple the front carriage and move it to the left to drop all the stitches on the front bed.
Move the front carriage back to the right and recouple the carriages.
Knit a second zig-zag row.
Set both carriages for circular and main tension. On the Superba, set the bed spacing as appropriate for your yarn. Knit 1 circular rows (1 carriage pass).
Transfer the stitch on the right edge from the front bed to the back bed. Knit 2 more circular rows (2 carriage passes).
Set the beds for full pitch (needles opposite), rack the front bed to the left for 2×2 rib and set both carriages to knit.
I like to knit my first circular row on the bed opposite the edge needles, but you're free to do what works best for you. At the end of the circular rows, the carriage will be on the right.
When you take the piece off the machine, you'll have a bunch of ugly loops on the edge: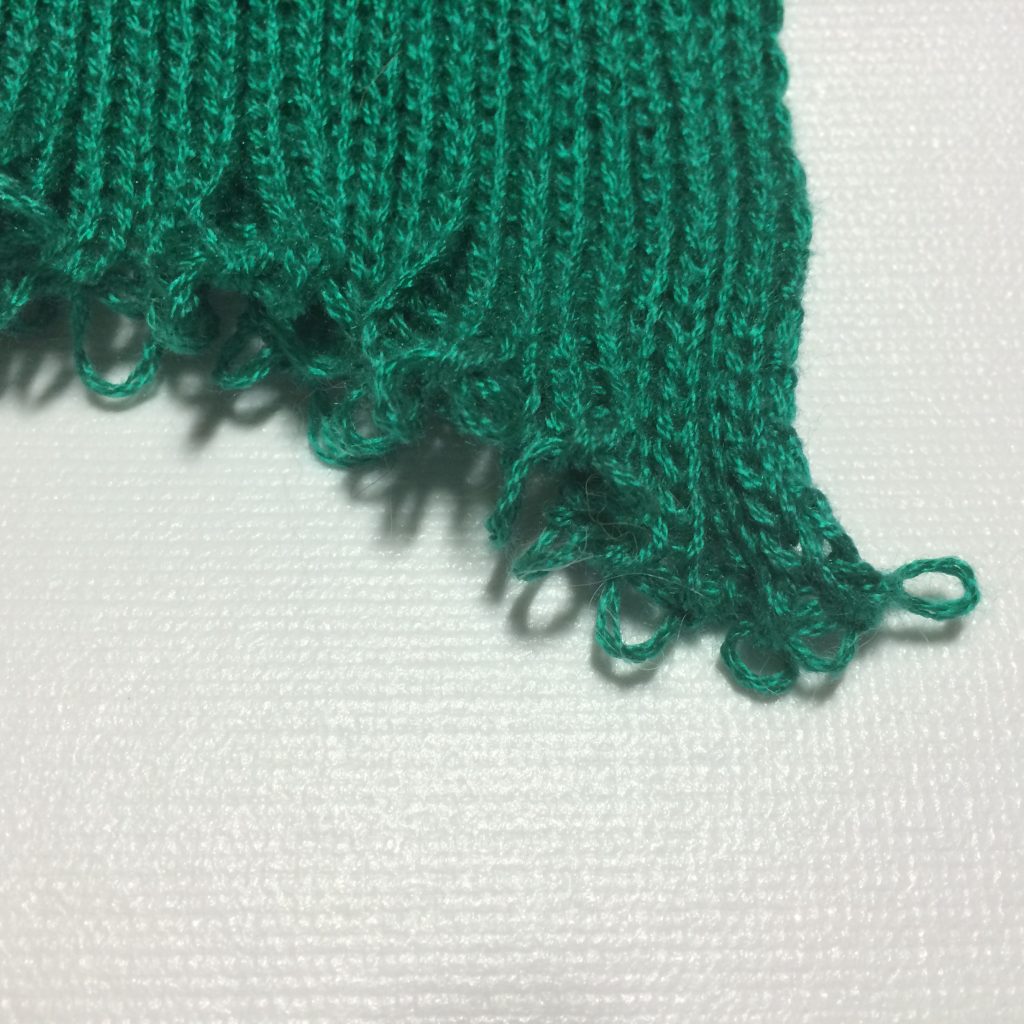 There will be a big loop on the corner opposite the yarn tail. Grab that loop and pull the yarn tail all the way through to achieve this: